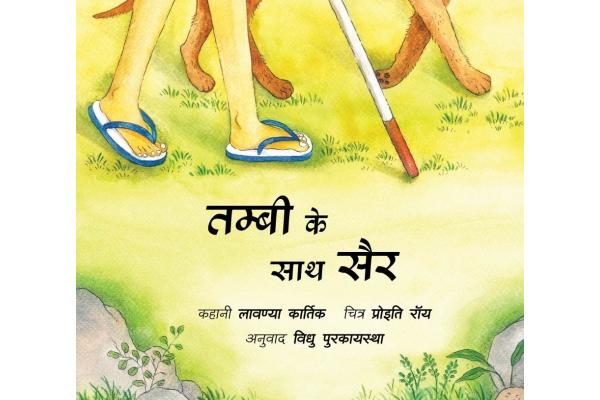 Tambi Ke Saath Sair
Publisher :

Tulika Publishers

Publishing year :

January 2017

Binding :

Paperback

ISBN :

9789350469460

Imprint :

Tulika Books
Age Group :

Age 5-8

Language :

Hindi
"We were late. We were running in the street. We had played in the river, and we had climbed trees..." Everything Amma had said NOT to do! Proiti Roy's joyous pictures light up the bond between a boy and a dog. Woven into this story of everyday fun are
"We were late. We were running in the street. We had played in the river, and we had climbed trees..." Everything Amma had said NOT to do!

Proiti Roy's joyous pictures light up the bond between a boy and a dog. Woven into this story of everyday fun are sensory descriptions, and visual details like a walking stick in the boy's hand or pocket, the dog guiding his friend... clues that gently tell us that the boy is blind.
Author :
Lavanya Karthik
When Lavanya Karthik was a little kid, all she wanted to do was make up stories and draw pictures. Now she's a slightly bigger kid, and that is pretty much all she does. Lavanya Karthik lives in Mumbai, where she writes and draws books for children of all sizes. She is the perfect size for eating chocolate, talking to stray dogs and daydreaming.
Illustrator :
Proiti Roy
Proiti Roy is one of the country's finest illustrators and a winner of the Big Little Book Award for children's book illustration, Proiti Roy graduated in fine arts in Shantiniketan, Bengal. Her nuanced sense of form and colour evoke many emotions. Among her acclaimed books with Tulika are Ismat's Eid, The Snow King's Daughter, In Bon Bibi's Forest, Bulbuli's Bamboo, Unhappy Moon and A Walk with Thambi. She now lives in Shantiniketan with her many rescued dogs and cats.
Translator :