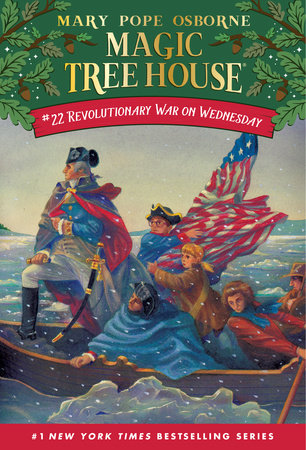 Magic Tree House: #22 Revolutionary War on Wednesday
Publisher :

Penguin Random House

Binding :

Paperback

ISBN :

9780679890683

Imprint :

Random House Childrens Books
Age Group :

Early Reader

Language :

English
The #1 bestselling chapter book series of all time celebrates 25 years with new covers and a new, easy-to-use numbering system! It is a dark and snowy night when the Magic Tree House whisks Jack and Annie back to colonial times. General George Washingt
The #1 bestselling chapter book series of all time celebrates 25 years with new covers and a new, easy-to-use numbering system!

It is a dark and snowy night when the Magic Tree House whisks Jack and Annie back to colonial times. General George Washington is about to lead his army in a sneak attack against their enemy. But now a terrible weather is making the great general question his plans. Can Jack and Annie keep history on track? The fate of the country rests in their hands!

Did you know that there's a Magic Tree House book for every kid?
Author :
Mary Pope Osborne
Mary Pope Osborne is the author of the New York Times number one bestselling Magic Tree House series as well as co-author of the Magic Tree House Fact Tracker series, along with her husband, Will, and her sister, Natalie Pope Boyce.
Illustrator :

Translator :