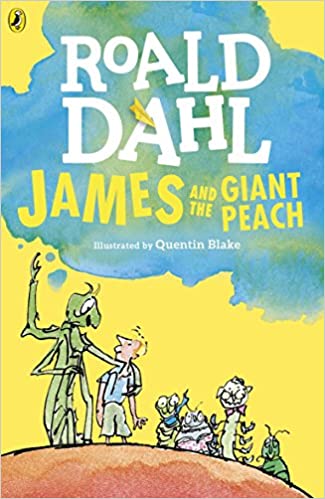 James & the Giant Peach
Publisher :

Penguin Random House

Publishing year :

January 2016

Binding :

Paperback

ISBN :

9780141365459
Age Group :

Early Reader

Language :

English

Number of Pages :

160 Pages
Phizzwhizzing new cover look and branding for the World's NUMBER ONE Storyteller! James Henry Trotter lives with two ghastly hags. Aunt Sponge is enormously fat with a face that looks boiled and Aunt Spiker is bony and screeching. He's very lonely until o
Phizzwhizzing new cover look and branding for the World's NUMBER ONE Storyteller! James Henry Trotter lives with two ghastly hags. Aunt Sponge is enormously fat with a face that looks boiled and Aunt Spiker is bony and screeching. He's very lonely until one day something peculiar happens. At the end of the garden a peach starts to grow and GROW AND GROW. Inside that peach are seven very unusual insects - all waiting to take James on a magical adventure. But where will they go in their GIANT PEACH and what will happen to the horrible aunts if they stand in their way? There's only one way to find out . . "A true genius . . . Roald Dahl is my hero" - David Walliams Now you can listen to James and the Giant Peach and other Roald Dahl AUDIOBOOKS read by some very famous voices, including Kate Winslet, David Walliams and Steven Fry - plus there are added squelchy soundeffects from Pinewood Studios! Also look out for new Roald Dahl apps in the App store and Google Play- including the disgusting TWIT OR MISS! and HOUSE OF TWITS inspired by the revolting Twits.
Author :
Roald Dahl
Roald Dahl was a spy, ace fighter pilot, chocolate historian and medical inventor. He was also the author of Matilda, Charlie and the Chocolate Factory, The BFG and many more brilliant stories. He remains THE WORLD'S NUMBER ONE STORYTELLER
Illustrator :
Quentin Blake
Quentin Blake's first book, Patrick, was published in 1968 and was followed by classics such as Mister Magnolia, All Join In, and Clown. He is best known for illustrating Roald Dahl's books. A patron of the Association of Illustrators, he was awarded the Kate Greenaway Medal in 1980 and the international Hans Christian Andersen Award in 2002, and was the inaugural British Children's Laureate from 1999 to 2001.
Translator :