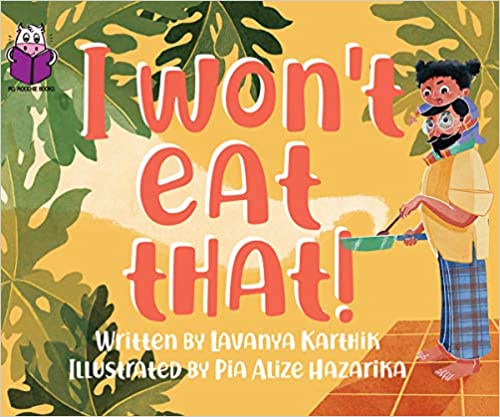 I Won't Eat That
Publisher :

Multistory Learning

Publishing year :

January 2019

Binding :

Paperback

ISBN :

9789385290398
Age Group :

Age 5-8

Language :

English

Number of Pages :

20 Pages
A hilarious, heart-warming tale of a father-daughter relationship, that places equal emphasis on the scale of a child's imagination and the quiet resourcefulness of a doting parent. Chinna loves playing with her toys and her dog Sharavati but hates try
A hilarious, heart-warming tale of a father-daughter relationship, that places equal emphasis on the scale of a child's imagination and the quiet resourcefulness of a doting parent.
Chinna loves playing with her toys and her dog Sharavati but hates trying the new, delicious-looking food that her father cooks every day.
Author :
Lavanya Karthik
When Lavanya Karthik was a little kid, all she wanted to do was make up stories and draw pictures. Now she's a slightly bigger kid, and that is pretty much all she does. Lavanya Karthik lives in Mumbai, where she writes and draws books for children of all sizes. She is the perfect size for eating chocolate, talking to stray dogs and daydreaming.
Illustrator :
Pia Alize Hazarika

Pia Alize Hazarika is an illustrator primarily interested in comics & visual narrative. Her independent/collaborative work has been published by Penguin India (The PAO Anthology), COMIX.INDIA, Manta Ray Comics, the Pulpocracy, Captain Bijli Comics, Yodapress, Zubaan books and the Khoj Artists Collective. She runs PIG studio, an illustration-driven space, based out of New Delhi.
Translator :