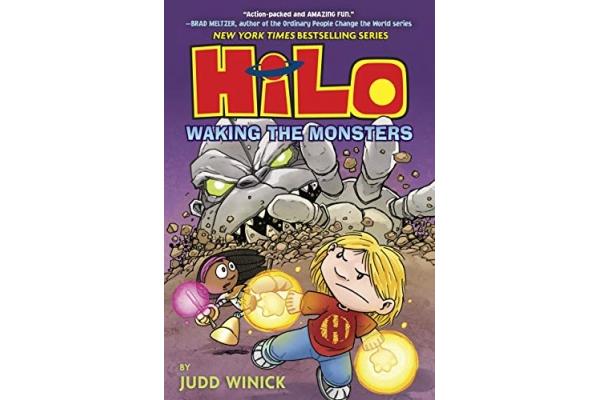 Waking the Monsters
Publisher :

Penguin Random House

Binding :

Hardback

ISBN :

9781524714932

Imprint :

Random House
Age Group :

Age 9-12

Language :

English
Genre :
Adventure | Comics/Graphic Novels
"An action-packed page turner with heart!"--Dav Pilkey, author of DOG MANTake off on an action packed adventure with HIL ...
"An action-packed page turner with heart!"--Dav Pilkey, author of DOG MAN

Take off on an action packed adventure with HILO Book 4! Dog Manmeets Big Nate in this hilarious New York Times bestselling graphic novel series that kids love! Chock full of MORE MONSTERS! MORE ACTION! MORE LAUGHS! MORE FUN!

DJ and Gina are TOTALLY ordinary kids. But Hilo isn't! ALERT! ALERT! ALERT! Has our favorite space boy finally met his match? Not if D.J. and Gina can help it! Mega Robot Monsters are suddenly waking up all over and they're TOO BIG and TOO STRONG for Hilo to fight on his own! Luckily, he doesn't have to! He has GINA and some brand new SUPER POWERS on his side! Being heroes can be super fun-but it can also be SUPER dangerous! And the closer Hilo and Gina get to saving their world from the monsters--the closer Hilo gets to the dark secret of his past. Does he really want to know? Do WE?!
Author :
Judd Winick
JUDD WINICK grew up on Long Island, where he spent countless hours doodling, reading X-Men comics and the newspaper strip Bloom County, and watching Looney Tunes. Today, Judd lives in San Francisco with his wife, Pam Ling; their two kids; and their cat, Chaka. When Judd isn't collecting far more action figures and vinyl toys than a normal adult, he is a screenwriter and an award-winning cartoonist. Judd has written bestselling comic book series, including Batman, Green Lantern, Green Arrow, Justice League, and Star Wars, and has also been head writer on the Hulu network's animated series, The Awesomes. Judd also appeared as a cast member of MTV's The Real World: San Francisco and is the author of the highly acclaimed graphic novel Pedro and Me, about his Real World roommate and friend, AIDS activist Pedro Zamora.
Illustrator :

Translator :