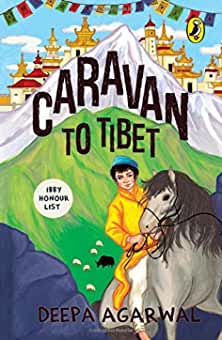 Caravan to Tibet
Publisher :

Penguin Random House

Binding :

Paperback

ISBN :

9780143330127
Age Group :

Young Reader

Language :

English
Genre :
Adventure | Fantasy/Magical | Nature and Wildlife
An adventure to the roof of the world through the eyes of a teenager.
Fourteen-year-old Debu sets off across the high mountain passes from Kumaon to Tibet to search for his father who got lost in a blizzard the year before.
Adventures follow thick and fast—a forced stay in a monastery with a boy lama who takes a fancy to him, his capture by the cruel, enigmatic bandit Nangbo, who has magical powers, and a stay in the legendary goldfields of Thok Jalong. And finally—a heart-pounding, breathtaking horse race. Does Debu find his father. Does he win the race? Pick up this page-turner to find out!
Author :
Deepa Agarwal

Author, poet and translator, Deepa Agarwal has written about fifty books in English and Hindi, mostly for children. She has received many prestigious awards including N.C.E.R.T. National Award For Children's Literature. Her historical adventure novel, Caravan to Tibet, was selected for the IBBY (International Board On Books For Young People) Honour List 2008 from India and like some of her earlier titles, was listed in the White Raven Catalogue of the International Youth Library, Munich. Her work has appeared in Japanese, Chinese and Korean as well as sixteen Indian languages.
Illustrator :

Translator :