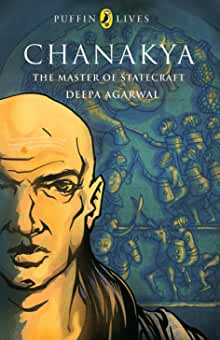 Puffin Lives: Chanakya The Master Of Statecraft
Publisher :

Penguin Random House

Binding :

Paperback

ISBN :

9780143332145
Age Group :

Young Reader

Language :

English
Genre :
Adventure | Historical Fiction | Biographies
When learned Brahmin Vishnugupta is humiliated by arrogant king Dhana Nanda in a public gathering, he swears revenge. Anger is his weakness, but strategy, his strength.
A formerly unknown Brahmin goes on to become the most well-known kingmaker in Indian history: Chanakya. Using a combination of cunning, ruthlessness and luck, Chanakya fulfils his vow and propels a boy of unknown origins, Chandragupta Maurya, to the throne of the most powerful kingdom of that time, an empire even Alexander the Great hesitated to confront.
This fascinating account shows how Chanakya went from being a penniless fugitive with the rebel prince of Pataliputra to the prime minister of Magadha, and finally the author of the groundbreaking Arthashastra. With fun snippets and lesser-known facts about this remarkable statesman and the Mauryan age, this book promises to be an exciting and gripping adventure story.
Author :
Deepa Agarwal

Author, poet and translator, Deepa Agarwal has written about fifty books in English and Hindi, mostly for children. She has received many prestigious awards including N.C.E.R.T. National Award For Children's Literature. Her historical adventure novel, Caravan to Tibet, was selected for the IBBY (International Board On Books For Young People) Honour List 2008 from India and like some of her earlier titles, was listed in the White Raven Catalogue of the International Youth Library, Munich. Her work has appeared in Japanese, Chinese and Korean as well as sixteen Indian languages.
Illustrator :

Translator :