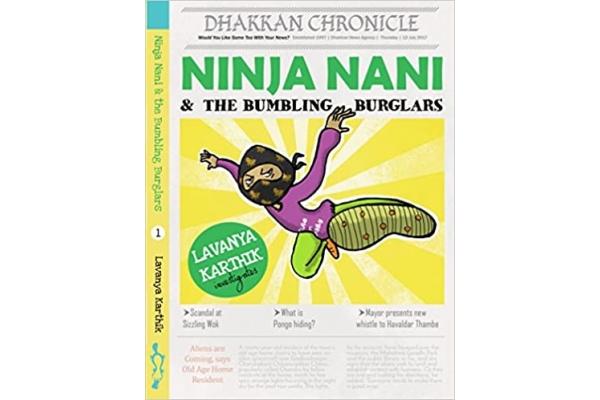 Ninja Nani and the Bumbling Burglars
(3,714)
By (author)
Lavanya Karthik
Publisher :

Penguin Random House

Publishing year :

2017

Binding :

Paperback

ISBN :

9789383331840
Age Group :

Age 9-12

Language :

English

Number of Pages :

112 Pages
Deepu is the biggest fan ever of the great Ninja Dragon Morimori and knows he must behave as nobly as that great cartoon hero. Which is why he is grappling with his cranky old grandmother for the remote control, when ZZZZAP! Nani has super ninja
Deepu is the biggest fan ever of the great Ninja Dragon Morimori and knows he must behave as nobly as that great cartoon hero.

Which is why he is grappling with his cranky old grandmother for the remote control, when

ZZZZAP!

Nani has super ninja powers and is swinging from the ceiling and back flipping across the living room! When Nani disappears out the window, Deepu has to follow.

Will Deepu survive this crazy night? Will he end up in a smelly beast's belly or the little boys' jail? More important, will he get back home before Mummy suspects anything?
Author :
Lavanya Karthik
When Lavanya Karthik was a little kid, all she wanted to do was make up stories and draw pictures. Now she's a slightly bigger kid, and that is pretty much all she does. Lavanya Karthik lives in Mumbai, where she writes and draws books for children of all sizes. She is the perfect size for eating chocolate, talking to stray dogs and daydreaming.
Illustrator :

Translator :