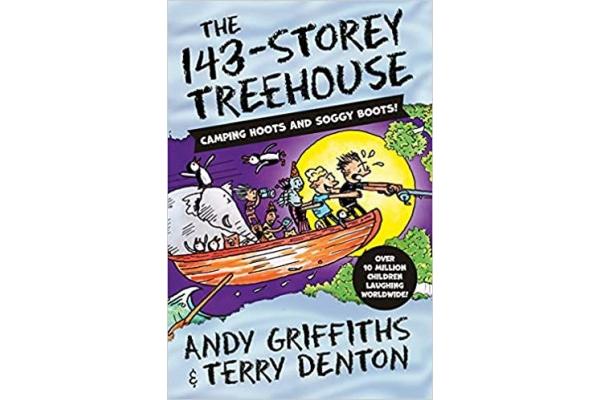 The 143-Storey Treehouse
Publisher :

Pan Macmillan

Publishing year :

19 October 2021

Binding :

Paperback

ISBN :

9781529047882

Imprint :

Macmillan
Age Group :

Age 9-12

Language :

English
There are lots of laughs at every level in The 143-Storey Treehouse, the eleventh book in the number one bestselling Tre ...
There are lots of laughs at every level in The 143-Storey Treehouse, the eleventh book in the number one bestselling Treehouse series from Andy Griffiths and Terry Denton.

We've added thirteen new levels to our Treehouse, including a word-o-matic (it knows every word in the whole world!); a recycling depot; a wrecking ball; a deep, dark cave with a real live, fire-breathing dragon; a complaining room; a spooky graveyard (where it's always midnight, even in the middle of the day); and a camping ground where you can have a nice, relaxing camping holiday.

Andy's been a bit stressed, so Terry has decided the perfect way for them to relax is to head up to their new camping ground level for a much-needed holiday. But it turns out to be not quite as relaxing as Terry originally planned...

Terry forgets to pack the tent and the food, their attempt at fishing ends in disaster, the spooky campfire stories are a little too spooky and then, to make matters worse, all of Andy's fellow campers start mysteriously disappearing.

Can Andy brave the dark, dark woods and rescue them in time to finish writing their next book?
Author :
Andy Griffiths
Andy Griffiths is the New York Times bestselling author of The Day My Butt Went Psycho!, Zombie Butts from Uranus!, and Butt Wars! The Final Conflict, as well as the Treehouse Series and Killer Koalas from Outer Space. In 2007, he became the first Australian author to win six children's choice awards in one year for Just Shocking! He is passionate about inspiring a love of books in his young readers, and works as an ambassador for the Indigenous Literacy Project, which provides books and literacy resources to remote indigenous communities around Australia. Andy is a big fan of Dr. Seuss and of cauliflower. He lives in Melbourne, Australia, and is Australia's most popular children's writer.
Illustrator :
Terry Denton
Terry Denton is a bestselling and award-winning writer and illustrator based in Melbourne, where he lives by the beach with his wife and three kids. He has won more than fifteen children's choice awards throughout Australia and is the co-creator of the bestselling Treehouse series with author Andy Griffiths, which has been published in over thirty countries. As well as being an illustrator, Terry is a fine artist and has held several exhibitions around inner Melbourne.
Translator :