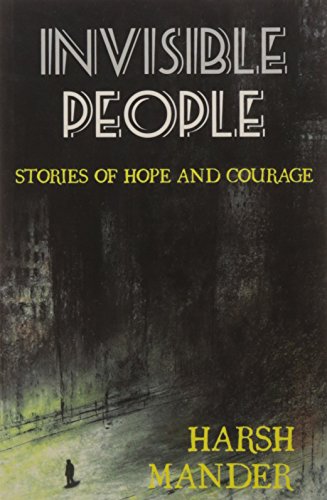 Invisible People
Publisher :

Penguin Random House

Binding :

Paperback

ISBN :

9789383331789

Imprint :

Duckbill Books
Age Group :

Young Adult

Language :

English
This book is a chronicle of memories … narratives from an India which few of us who read this book will ever enco ...
This book is a chronicle of memories … narratives from an India which few of us who read this book will ever encounter.
Have you ever really looked at the people who live on the streets around you?
Many of them have fought against unimaginable odds to live a life of dignity and courage. Some have emerged from their sufferings with greater strength, and gone on to help others like them.
Harsh Mander writes with compassion and deep sensitivity about these unsung heroes of India—Mogalamma who cannot walk and yet is a pillar of support for others like her; Rajmane who was wrongfully imprisoned and now assists other poor prisoners get justice—and helps us see that there is another India around us, if only we would stop and look.
This is a book that every young Indian should read, because it is easy to forget that for every successful Sindhu and Rahman, there are thousands of Mogalammas and Rajmanes, struggling bravely just to live a normal life.
Author :
Harsh Mander
Harsh Mander, writer, human rights and peace worker, columnist, researcher and teacher, works with survivors of mass violence, hunger, homeless persons and street children. His books include Looking Away: Inequality, Prejudice and Indifference in New India; Ash in the Belly: India's Unfinished Battle against Hunger; Unheard Voices: Stories of Forgotten Lives; Fear and Forgiveness: The Aftermath of Massacre; Fatal Accidents of Birth: Stories of Suffering; Oppression and Resistance; Fractured Freedom: Chronicles from India's Margins; The Ripped Chest: Public Policy and the Poor in India; and Untouchability in Rural India (co-authored). He regularly writes columns for the Indian Express, Scroll, the Wire and Telegraph. He coordinates the production of the annual India Exclusion Report. His real-life stories have been adapted for films, such as Shyam Benegal's Samar and Mallika Sarabhai's dance drama Unsuni. He is associated with social causes and movements for communal harmony and justice, minority rights, the right to information, the right to food, homeless rights, health rights, bonded labour, tribal, Dalit, child and disability rights; and recently organized a journey of solidarity and conscience to families affected by hate violence across India called Karwan e Mohabbat or a Caravan of Love.
Illustrator :

Translator :