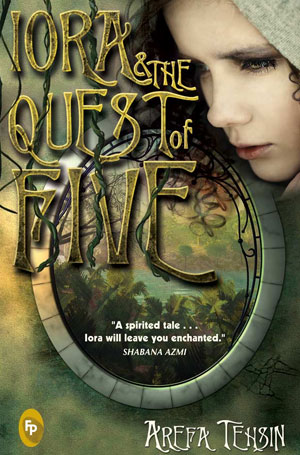 Iora & the Quest of Five
Publisher :

Fingerprint Publishing/ Prakash Books

Publishing year :

January 1998

Binding :

Paperback

ISBN :

9788172344160
Age Group :

Young Adult

Language :

English
Genre :
Adventure | Crime/Mystery
What is the Mysterious Five?
That's the question that little Iora, a resident of Twitterland, a hidden rainforest civilisation, must answer in order to save her father's life. Searching for him, she enters the Wacky Wilderness—an enchanted jungle – where she learns that it is not just her father's life that's threatened. The entire jungle is doomed!

And thus begins Iora's incredible adventure with dwarf Beetle and her bosom foe Owlus and together, the three encounter many tribes, clans and creatures of the wild!
But as they carry on this mad and marvellous expedition, little do they know that destiny has an evil surprise in store for them.
Author :
Arefa Tehsin
Playing with snakes, exploring caves and treading jungles has always delighted Arefa as much as writing. An honorary Wildlife Warden of Udaipur, Arefa is the co-author of Tales from the Wild and has written other wildlife edutainment books.
Illustrator :

Translator :