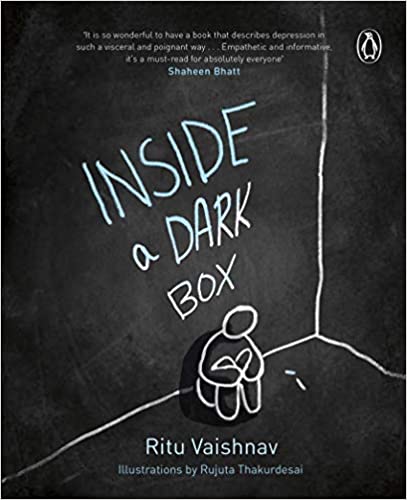 Inside a Dark Box
Publisher :

Penguin Random House

Publishing year :

January 2020

Binding :

Hardback

ISBN :

9780143449355
Age Group :

Young Adult

Language :

English

Number of Pages :

32 Pages
When you get trapped in darkness, finding your way out can be a long and lonely battle, especially when the war is within your own head. Here's a peep inside a mind struggling with itself. Inside a Dark Box is a simple book about what depression can fe
When you get trapped in darkness, finding your way out can be a long and lonely battle, especially when the war is within your own head. Here's a peep inside a mind struggling with itself.
Inside a Dark Box is a simple book about what depression can feel like.
Author :
Ritu Vaishnav
Ritu Vaishnav has worked as a journalist, a teacher and an editor for children's books. She has written for Indian Express and Times of India and worked as a news producer and reporter for the India Today news channel. She is also the co-founder of a popular children's bookstore in Gurugram that actively works with schools to build a strong reading culture among students.
Illustrator :

Translator :