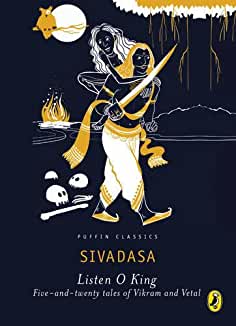 Listen, O King!: Five-and-Twenty Tales of Vikram and the Vetal
Publisher :

Penguin Random House

Binding :

Paperback

ISBN :

9780143333890
Age Group :

Young Reader

Language :

English
Genre :
Classics | Fantasy/Magical | Folktales | Indian Mythology
In a land of glorious kings, bloodthirsty demons and talking spirits, was born the lore of Vikram and the Vetal. What follows is exciting.
After a series of mysterious events, King Vikramaditya carries the vetal, a witty ghost, on a long journey through death's playground. The vetal narrates the most fascinating stories and asks the most puzzling riddles, leaving Vikram completely stumped.
Deepa Agarwal's beautiful adaptation brings age-old wisdom alive through the vetal's wondrous tales of glory, love and honour that are bound to captivate and confound readers even today.
Author :
Deepa Agarwal

Author, poet and translator, Deepa Agarwal has written about fifty books in English and Hindi, mostly for children. She has received many prestigious awards including N.C.E.R.T. National Award For Children's Literature. Her historical adventure novel, Caravan to Tibet, was selected for the IBBY (International Board On Books For Young People) Honour List 2008 from India and like some of her earlier titles, was listed in the White Raven Catalogue of the International Youth Library, Munich. Her work has appeared in Japanese, Chinese and Korean as well as sixteen Indian languages.
Illustrator :

Translator :