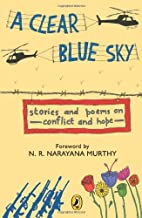 A Clear Blue Sky
Publisher :

Penguin Random House

Binding :

Paperback

ISBN :

9780143331414

Imprint :

Penguin Books India
Age Group :

Young Reader

Language :

English
Genre :
Anthologies | Rhymes/Poetry
Author :
N.R. Narayana Murthy
N.R. Narayana Murthy is an Indian entrepreneur who founded Infosys, one of India's largest IT companies. He attended the National Institute of Engineering and graduated in Electrical Engineering. He later went on to do his Masters from IIT Kanpur. He started Infosys in 1981 and stayed on as CEO of the company until 2002. He started Infosys with an initial capital of Rs. 10000 and saw it rise to a billion-dollar enterprise. He has been the recipient of various national and international awards and is a keen philanthropist. He is married to Sudha Murthy and together they have two children.
Illustrator :

Translator :