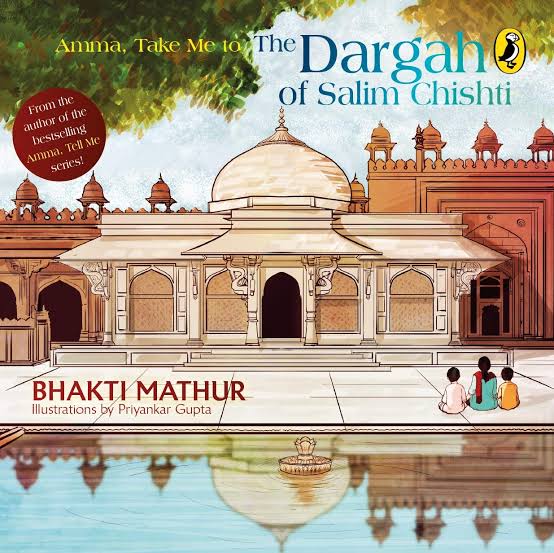 Amma, Take Me to the Dargah of Salim Chishti
Publisher :

Penguin Random House

Binding :

Paperback

ISBN :

9780143428329

Imprint :

Puffin
Age Group :

Early Reader

Language :

English
Genre :
Historical Fiction | Indian Mythology
Travel with Amma and her boys to the fascinating fortress city of Fatehpur Sikri. Hear the story of why the great Mugha ...
Travel with Amma and her boys to the fascinating fortress city of Fatehpur Sikri.
Hear the story of why the great Mughal emperor Akbar visited the Sufi saint Shaikh Salim Chishti and then had a mausoleum built in his honour. Walk through the imposing Buland Darwaza. Admire the majestic architecture
of the sprawling quadrangle. Hear the soulful notes of azan wafting from the Jama Masjid. Tie a thread in the delicate jali screens as you make a wish. Behold the dargah of Salim Chishti shining like a white pearl in an oasis of red sandstone. Listen to Amma with your eyes and ears wide open, for this whirlwind of a journey promises to leave you mesmerized!
Told through interesting stories with captivating illustrations, this new series introduces readers to the history of different faiths and their associated monuments.
Author :
Bhakti Mathur
Bhakti Mathur, private banker by day, mother to Shiv and Veer (seven and five years old) and an avid delver in Indian mythology at all other times is the creator of the Amma Tell Me books a series of picture books about Indian festivals and mythology for children in the three to nine year age group. She wrote and self-published her first book, Amma Tell Me About Holi! in 2011 and over the next three years, the series has grown to eleven books on the festival of Diwali, the Hindu epic Ramayana and stories about the Hindu gods, Krishna, Ganesha, Hanuman and the goddess Durga. The real motivation for writing the Amma Tell Me series was to share with my sons the fascinating stories from Indian mythology that I had grown up with, says Bhakti. But, I found that there were no resources that were simple to understand and that captured the rich imagery of mythological India that is such an integral part of these stories for me. So I went ahead and started writing the stories in a style that I think kids find fun and non-preachy and collaborated on the illustrations to bring out the imagery that I want my stories to convey. Bhakti grew-up in Delhi. She studied at Modern School Vasant Vihar. She obtained her graduate degree in Economics and her post graduate degree in Finance from Delhi University. She is a CFA charter holder. She currently works for a major Swiss Bank and lives in Hong Kong with her husband, their two sons and their two dogs. Bhakti is a committed writer ambassador for Room to Read, a global non-profit which offers holistic literacy and girls education programs. An avid reader, a long-distance runner and a yoga enthusiast, when not working or running after her boys, she is happiest curled up with a book in her hand and a hot cup of chai.
Illustrator :

Translator :